https://bitcoincraze.xyz/bitcoin-cash-the-bull-run-resumes/-
Bitcoin Cash has continued to defy the odds, with the market readiness for Bitcoin Cash's hard fork on the 15thMay that pushed Bitcoin Cash into a bullish trend. BCH started its bullish trend at 6th April's low $600.1 and, trailblazed its way through April to its current price at $1486.
Market sentiment towards Bitcoin has seen a decline since the beginning of the year, as concerns continue to linger over its adaptability in the real world, transaction speeds and fees making it a cumbersome alternative to fiat money. Last year, disagreements between Bitcoin core developers and community over the speed at which to increase its block size ultimately led to the Bitcoin hard fork and, while Bitcoin continues to struggle with its existing block size, the Bitcoin Cash community is at it again, not only looking to ramp up the block size from 8MB to 32MB, but to also introduce a number of other enhancements, including the reactivation of the blockchain's smart contract feature that allows the network to share, archive and track and record assets that have been digitalized.
A multi-functional cryptocurrency that provides a more viable alternative to fiat money, with significantly faster transaction times and negligible fees relative to Bitcoin, and also a document and asset warehouse capability can only be a positive factor for Bitcoin Cash and its outlook.
The news of the 15th May hard fork was not new, but with increased references across the crypto news wires, speculative investors will have moved into Bitcoin Cash on hopes of receiving a free Altcoin in event that the hard fork does not garner the necessary support. However, the current fork will not create a free altcoin for Bitcoin Cash holders.
We've seen Bitcoin Cash ease back from its 24th April swing high $1,578.3, on the back of a combination of profit taking and a realization that a creation of an Altcoin will be unlikely.
Having rallied 111.3% in the month of April, leaving Bitcoin in the dust with its measly 35.1% gain, the recent reversal will not be of particular concern for longer-term investors who are seeing an increasing adoption of blockchain technology and the use of cryptocurrencies in the real world.
In addition, the fact that the Bitcoin Cash community having far fewer disagreements than the world of Bitcoin makes it a safer coin and a better investment.
On the Technical and the Day Ahead
Following a start of the week wobble that saw Bitcoin Cash give up 6.43%, Tuesday's consolidation of April's gains supported a resumption of the current bullish trend formed at 6th April's swing low $600.1, Bitcoin Cash ending Wednesday up 7.83% at $1,461.2.
At the time of writing, Bitcoin Cash was up 1.21% to $1,478.6, with BCH holds around an important support level at $1474.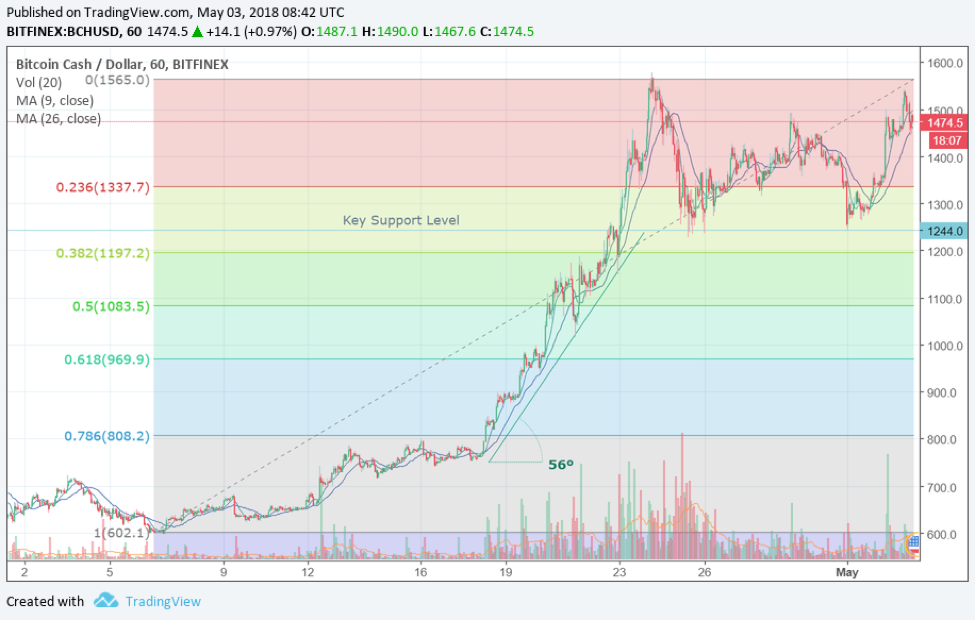 A break above the 9 days Moving Average can signal the next bullish leg towards the previous high at $1534.
We will expect Bitcoin Cash to move within the upper end of a $1,300 to $1,600 range, with a breakout from April's swing high $1,578.3 bringing $2,000 levels into play ahead of the 15th May hard fork.
Any pullback through to $1,300 levels will see Bitcoin Cash test the day's first major support level of $1,337, its 23.6% Fib retracement.  support at the $1,400 psychological level likely to be dictated by sentiment across the broader market.
For long-term investors, a stop loss at $1,200 low would protect from a bullish trend reversal that could see Bitcoin Cash slide through to $1,100 levels to bring sub-$1,000 and 6th April's swing lo $600.1 into play.
This article was written by FXEmpire
Source: https://globalcoinreport.com/bitcoin-cash-bull-run-resumes/
-https://bitcoincraze.xyz/wp-content/uploads/2018/05/bitcoin-cash-the-bull-run-resumes.gif